About Us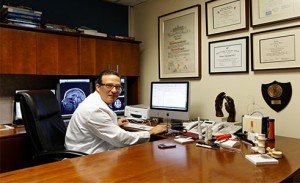 Unique Interventional Radiology is a well established, clinically based, Vascular & Interventional Radiology (VIR) medical practice providing patient care in the form of minimally invasive surgical and catheter-based procedures using imaging guidance. As the inventors of angioplasty and vascular stents, interventional radiologists were the pioneers in the development of minimally invasive catheter techniques to treat a variety of vascular and nonvascular diseases.  Many conditions that once required open surgery can now be treated less invasively, with less risk, pain, and recovery time.
The medical staff of Unique Interventional Radiology are world renowned, Vascular & Interventional Radiologists with over 40 years combined experience.  The mission of our physicians and staff is to provide the highest quality of care and academic level expertise in the management of patient healthcare.  Every patient shall be treated in an individualized and professional manner through every step of their medical care.
---
Moises Roizental, MD, FSIR
Dr. Roizental is a Board Certified Vascular and Interventional Radiologist.  Originally from Caracas, Venezuela, where he served as the Chief of Vascular & Interventional Radiology at Policlinica Metropolitana, and Fellowship Director,  he has over 15 years experience in endovascular procedures. In addition to his vast experience in a variety of arterial and venous therapies, he has special interest and expertise in minimally invasive treatment for varicose veins, has pioneered the Endovenous Laser Ablation procedure in Latin America  since 1999. Has done over 6000 saphenous vein laser ablations.
Dr. Roizental received his medical degree from the Universidad Central de Venezuela.  He completed his radiology residency at Deaconess Hospital, Harvard Medical School where he served as chief resident, and his vascular and interventional radiology fellowship at the Baptist Cardiac and Vascular Institute.
He is renowned for his outstanding research on the endovascular management of vascular disease.  He has conducted significant studies in this area at Harvard University, Baptist Cardiac & Vascular Institute, and the Universidad Central de Venezuela and Policlinica Metropolitana Caracas.  He has written extensively and presented his findings at annual meetings for national and international societies, is a Fellow of the Society of Interventional Radiology and currently is a member of the Board of Directors of the Iberoamerican Society of Interventional Radiology SIDI.
---
Floyd A. Osterman, Jr., MD
Dr. Osterman is a Board Certified Vascular & Interventional Radiologist with over 25 years experience in interventional radiology.  He was a pioneer in developing and establishing his own clinically based, vascular & interventional radiology practice, of which there are only a few dozen in the country.  He is experienced in a variety of vascular & interventional radiology procedures, including Uterine Fibroid Embolization.
Dr. Osterman received his medical degree from the University of Miami School of Medicine and completed his radiology residency at The Johns Hopkins Hospital in Baltimore, MD.
His academic appointments include serving as the Section Chief of the Cardiovascular & Diagnostic Laboratory at The Johns Hopkins Hospital.  During his 10 year tenure, he developed a 2 year Interventional Radiology Fellowship program and trained 38 Fellows.   Prior to this achievement, he served as the Chief Radiologist for the North Broward Hospital District, Broward County, FL.
Dr. Osterman has over 100 scientific publications and presentations, and more than a dozen book chapters published.  He has presented his findings at various prestigious annual conferences.
---
Vanina Serber-Copernik, ARNP, MSN
Ms. Serber-Copernik is a board certified Advanced Registered Nurse Practitioner with over 10 years experience in the specialty of Vascular & Interventional Radiology. She has served in the Practice for more than 7 years.  She received her Bachelor of Science Degree in Nursing from the Univeristy of Florida and her Advanced Registered Nurse Practitioner Degree from Barry University.  Prior to joining the Practice in 2007, she worked as a registered nurse in interventional radiology at Aventura Hospital and Medical Center and served as the Coordinator of the Congestive Heart Failure Center at Miami Heart Institute.
---